Search

You have to be logged to rate this tvshow
Genre:
Dramedy
SF / Fantastic
Family
Last episode : 7x10 - Aired on 2021-07-25
Season 6: 10 épisodes
Season 7: le 16 mai
"Good Witch" takes you on a magical journey with Cassie Nightingale, her daughter Grace and their cousin Abigail. All three charm their way through the town of Middleton, causing harmony and disharmony, but always touching lives. So when Dr. Sam Radford moves in next door to the mysterious Grey House, he soon discovers Cassie's signature charm is more than just a magic touch.
Official website
:
Site Officiel
Netflix
Links
:



Casting:





Guest stars:

Directors:

Writers:

Position in the Top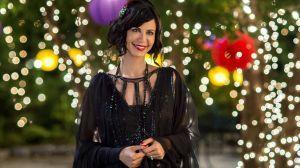 ENDED TV SHOW
Season 7
Season 6
Season 5

Season 4

Season 3

Season 2

Season 1

Special

This page has been seen 20006 times since the 2015-02-03
Last update of this page on 2021-09-02 at 20:39
Last manual modification on 2021-06-28 at 08:17 by
Caféine
-
Modifications history