Search

You have to be logged to rate this tvshow
Genre:
History
Mini-serie
Documentary
Last episode : 2x06 - Aired on 2021-01-26
Season 1: 4 épisodes
Season 2: 6 épisodes
Myths die hard and the history of the 20th century is no exception to this iron law. We still live today with preconceived ideas that we take as gospel truths. Thus, we believe that Hiroshima made Japan surrender, that the Marshall Plan saved Europe, that Adolf Hitler was a military genius, or that Mao Zedong was ultimately a necessary evil to modernize China. Certainly, these judgments contain an element of veracity; but, too summary to be faithful, they betray historical reality, the complexity of which they deny. What if the truth is slightly different? By exploring the great national or transnational mythologies, this entirely archival-based series revisits the history of the 20th century through a new angle.
Official website
:
arte.tv/les-coulisses-de-l-histoire
Links
:

Directors:

Writers: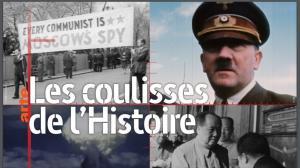 This page has been seen 968 times since the 2019-01-03
Last update of this page on 2021-02-17 at 15:34
Last manual modification on 2021-01-05 at 23:25 by
Caféine
-
Modifications history