Search

You have to be logged to rate this tvshow
Genre:
SF / Fantastic
Cop / Investigation
Thriller
Animation
Last episode : 2x11 - Aired on 2014-12-18
Next episode : 3x01 - Air on 2019-10-01
Season 3: commandée - octobre 2019
In the near future it is possible to instantaneously measure and quantify a person's state of mind and personality. This information is recorded and processed. The standard by which a persons' mind is referred to as the "Psycho-Pass".
Official website
:
Site Officiel
Links
:



Casting:





Directors:

Writers:

Position in the Top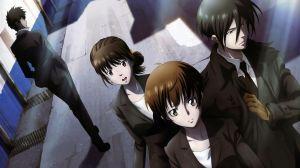 Season 3
Season 2
Season 1

Special

This page has been seen 1225 times since the 2015-05-23
Last update of this page on 2019-09-23 at 07:11